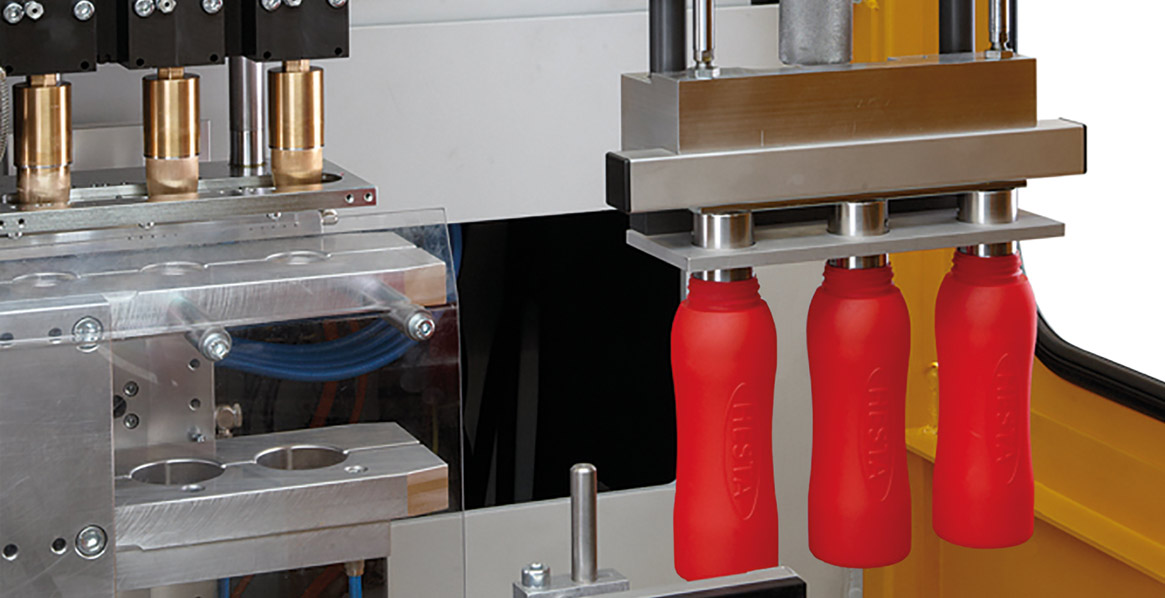 Two become one: One Cable Technology
Product range:
Connectivity
The new One Cable Technology (OCT) hybrid cables are already used in many industrial applications, for instance, in machines that produce thousands of plastic items every day for various purposes.
What have a shampoo bottle and a canister for motor oil got in common? Or a tiny ampoule of cream and cubic meter-sized plastic tank? They are all hollow bodies made of plastic and are created on blow-mold machines - this also includes specially shaped products for industrial or medical equipment applications.
Form follows compressed air
A reputed manufacturer of these kinds of machines is Hesta Blasformtechnik GmbH & Co. KG in Schwäbisch Gmünd. Today, there are around 2,500 Hesta machines in use across the globe. KAtech Automatisierung GmbH in Filderstadt near Stuttgart is a partner for the electrical design and programming of these machines. "It is certainly a challenge to design all the necessary axle movements and install the cables accordingly," explains Christian Braun, the technical manager at KAtech. Up to twelve servo-axes are required to blow-mold complex bodies, such as air ducts for the automotive industry or multi-level bodies for the medical sector. Put simply, the inner contours of an extruded thermoplastic hose are adapted in a blow mold by means of compressed air. A servo-controller controls every motorized movement.
OCT as a new standard
Wiring with OCT hybrid lines make lots of things much easier because they combine the power supply and digital feedback for servo-motors. This allows KAtech to save one cable respectively per axle controller. With regard to the control cabinet and installation in the C-track, this means fewer wiring paths with half the installation effort, less space is required and ultimately a reduction of the costs for assembly and maintenance.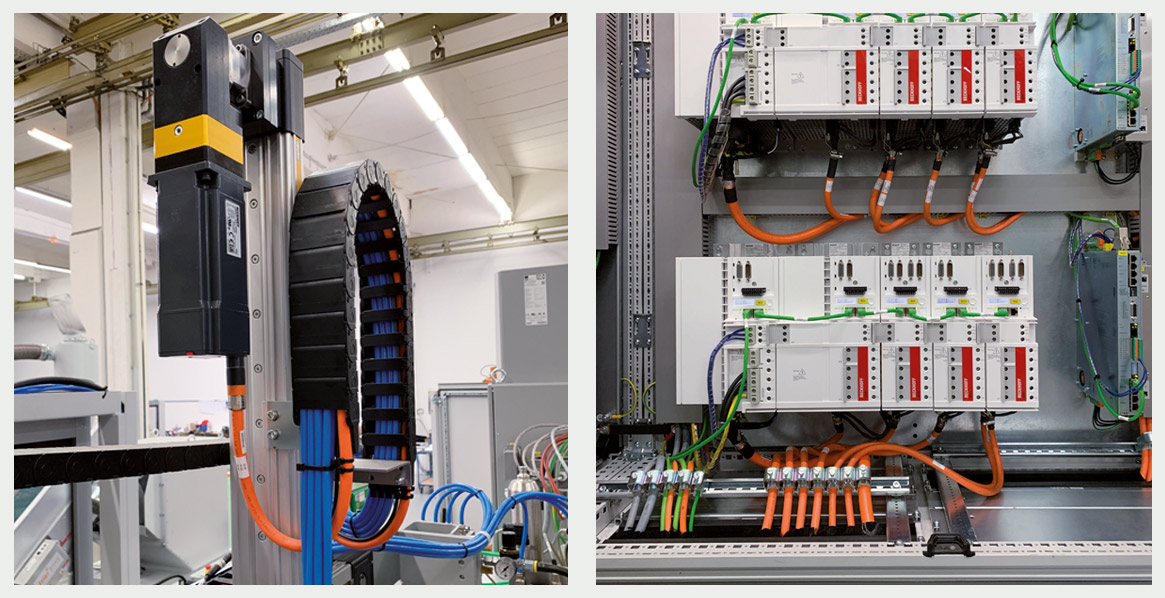 Beckhoff OCT prefabrications C-track applications (Photo: KAtech) | Beckhoff OCT prefabrications in the control cabinet (Photo: KAtech)
Why connectivity solutions by LÜTZE?
"We can rely on the quality, there have been no failures," emphasizes Managing Director Günter Alber. He also values his LÜTZE Sales Engineer as a reliable contact because he ensures a constant high-quality level of service, as the cables are manufactured in the required length and can be scheduled easily for each specific machine. LÜTZE is also able to supply small quantities, something that is not always standard practice in the market.
At the end of the day, short delivery times and attractive prices are also factors that count for KAtech, which is why it has purchased products from LÜTZE for many years, including cables and encoder cables, sensor cables and valve plugs, and electrical drives for retrofitting to hydraulic blow-mold machines as this pays off with up to 40 percent energy savings.
Perfect for the C-track
LÜTZE OCT cables are equipped with a PUR jacket and special polyolefin wire insulation for use as C-track chains. Harsh operating conditions, extreme temperatures or aggressive coolants and lubricants? Nothing can damage the material and 7.5xD promises a very good alternating bending strength for fail-safe work and the braided shield designed for continuous use, offers high active and passive interference resistance. Of course, the cables are halogen-free and RoHS-conform and approved to cURus, they also have the UL Style UL AWM 21233. What else is important? LÜTZE supplies these cables with varying numbers of wires and cross-sections, even from a lot size of 1 piece.
Two becomes one: the One Cable Technology
Planners have a clever cable solution with the LÜTZE OCT - fewer cables, improved efficiency and operational security. The word is out! LÜTZE hybrid lines, which are compatible to the Beckhoff® Standard, are becoming more popular in the machine and plant construction sector. Corresponding connectivity solutions for Siemens and Bosch Rexroth are in progress and will be available shortly.
Horst Heckel, sales engineer, Friedrich Lütze GmbH