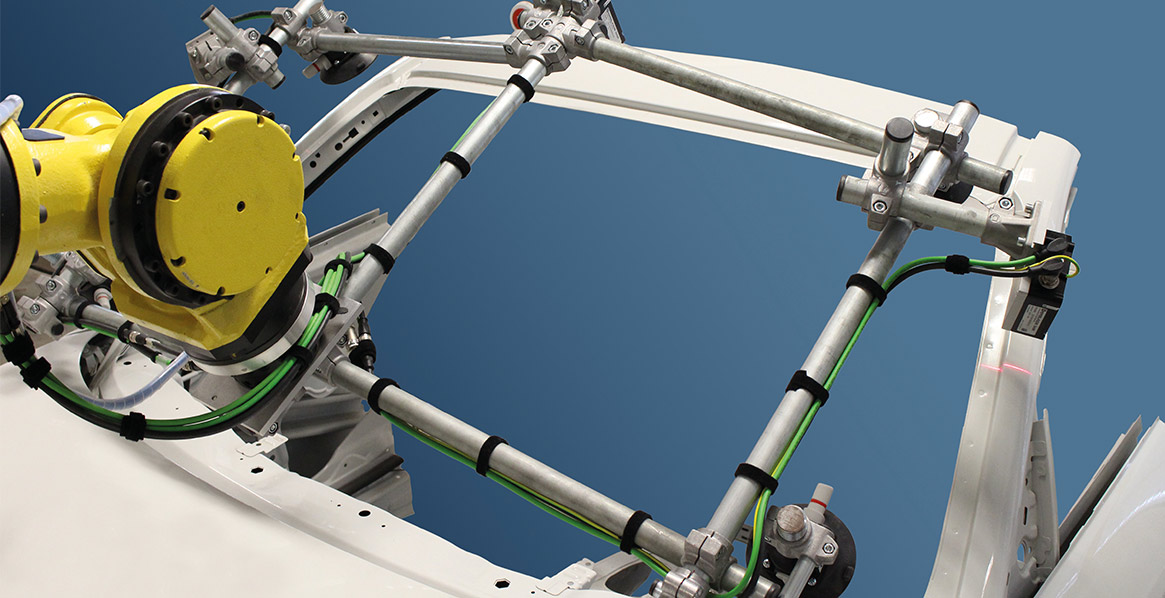 Data cables - how robots see them
Product range:
Cable
Connectivity
Visually-guided robots used in production work very precisely. Demands are also made on their 'optical nerves' - namely the data cables. After a tough endurance test, the leading supplier of robot vision systems relies on a torsion-suitable solution by LÜTZE.
The arm of the robot moves along the overlapping sheet metal on the bodywork. It places each individual welding point precisely. However, it varies minimally from its designated path occasionally and corrects a processing step to + / - 0.2 mm depending on the geometry of the part. This may differ slightly as a result of production or joining processes. The robot doesn't actually have eyes, so how can it see? If you take a closer look, you can see that there is a camera sensor or a laser triangulation sensor mounted close to the processing tool that moves simultaneously along the processing contour.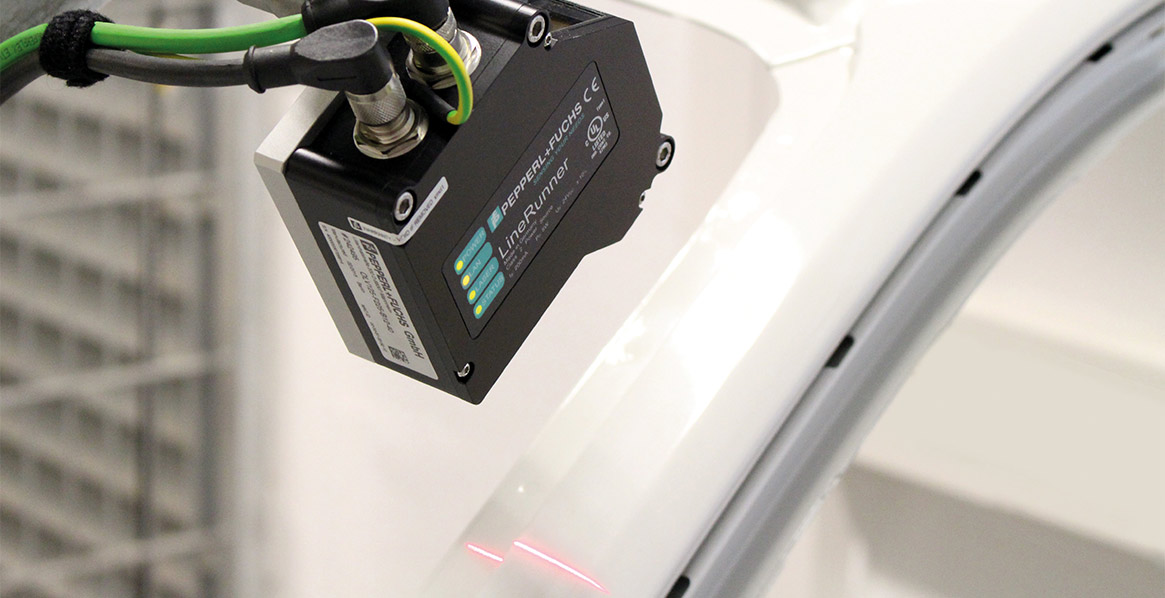 The high-performance camera uses laser triangulation to determine the position and the size of the adhesive bead for the front pane (picture credit: VMT Systems)
Formula for customised solution: M12X
This automatic path correction was developed by the world's leading expert for turnkey image processing and laser system solutions: VMT Bildverarbeitungssysteme GmbH (Vision Machine Technic).
"The continuous automation of a variety of production processes necessitates this individual processing path of each individual part by means of robot-guided applications," explains Torsten Tunze, the head of production. Their ever-more powerful sensor technology demands 100 Mbit or Gigabit data streams which have long since been standard in camera technology. 'There is another factor that is also important for fast data transmission in robot-guided applications: torsion-suitable robot cables, that almost no manufacturer supplies. Once again, the longstanding partnership with LÜTZE paid off: 'We are currently using an M12X assembly by LÜTZE in our latest system. This actuator-sensor cable, which was specially developed for us, is an 8-pin x-coded version of the category CAT 6A with a molded plug." This is because the D-coded M12 cables that have been used by VMT for many years are no longer adequate for the latest generation of robots and sensors. The new torsion-resistant robot solution has now been added to the LÜTZE product range, the automation expert from Weinstadt.
40,000 torsions per week
The LÜTZE SUPERFLEX® cables for the visual guidance of robots connect the cameras or sensors to the analysis computer on which VMT's image processing software runs. It follows every individual movement without fail; three or five movement cycles per minute. The systems run without interruption, i.e. 24/7. For those who like mental arithmetic: at four cycles per minute, this equates to more than 40,000 cycles alone in a 7 day period, which makes considerable demands on the torsion capability.
Winner of the million test
How can you be really certain that the best solution available on the market is always used? Some time ago, VMT tested the fail-safe characteristics of cables from a number of manufacturers: the test system conducted nonstop random lifting and turning movements of the lower and upper cable attachment during permanent data transmission. After more than one million cycles with a corresponding torsion load, only the C-train-suitable LÜTZE SUPERFLEX® ETHERNET (C) remained error-free. An unusually high resistance to bending stress loads is the result of decades of close cooperation with material experts, C-train manufacturers and users. Valuable know-how of all materials, designs and production processes is included in every meter of the LÜTZE cables.
Today, VMT has equipped around 4,000 robot vision systems with LÜTZE cables. So any robots out there in the world welding, setting adhesive or sealing seams, mounting car doors and cockpits, or checking gap dimensions and alignment, can keep a very close eye on what they are doing thanks to this team solution.
Author: Martin Baum, sales engineer, Friedrich Lütze GmbH
Picture credit cover: VMT Systems