2021

New AirSTREAM catalogue published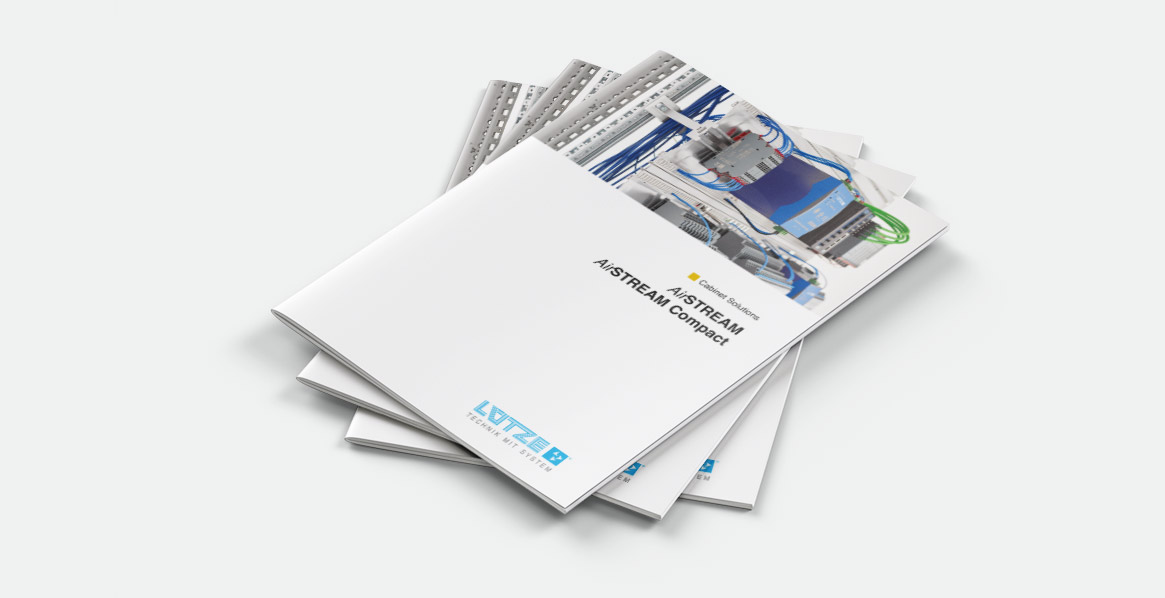 June 16, 2021
New AirSTREAM catalogue published
LÜTZE presents 'Cabinet Solutions', the new catalogue with all technical details and order information for use with AirSTREAM and AirSTREAM Compact.
Users from project planning and control cabinet design environments will find everything they need in more than 120 pages of energy-efficient and space-saving wiring in control cabinets. Thanks to the duct-free AirSTREAM wiring, space savings of up to 30% in the control cabinet are possible. Also, the LÜTZE system has the potential to save up to 23% of the energy required for the cabinet air conditioning, compared to conventional mounting plates.
The catalogue has been supplemented with the sections AirSTREAM Compact and the new AirSTREAM mounting rail SR032. AirSTREAM Compact is used in small and compact control cabinets and control boxes that are often not very deep. LÜTZE has completed the modular AirSTREAM wiring system kit with the introduction of the mounting rail SR032. Thanks to the various attachment options, the mounting rail structure is much more flexible and therefore offers the end user considerable time savings during assembly and subsequent modifications.
The new AirSTREAM catalogue also contains intelligent accessories such as the AirBLOWER fan unit and the AirBLADES, for the prevention of hot spots and for fast and reliable thermal control inside the control cabinet.
In addition to basic technical details, the new catalogue also contains important information about the modular nature of the AirSTREAM system, as well as installation and wiring.

The new catalogue can be requested from info(at)luetze.de or downloaded free of charge at www.luetze.com.Download Catalogue
Number of characters: 1,973
Press contact
Wolfram Hofelich
Friedrich Lütze GmbH
Bruckwiesenstr. 17-19
71384 Weinstadt, Germany
info

(at)

luetze.de
Tel +49 7151 6053-0
Fax +49 7151 6053-277
Press download