Single servo cable solution now very easy to fit and operationally safe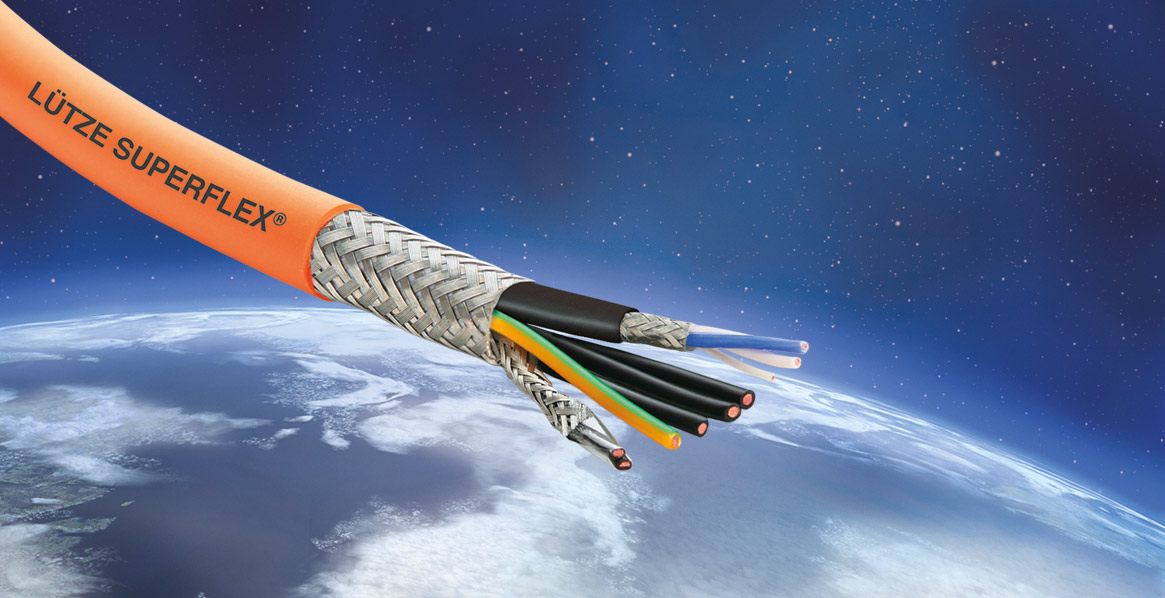 April 13, 2017
Single servo cable solution now very easy to fit and operationally safe
LÜTZE SUPERFLEX® HIPERFACE-DSL® Servo-cable for the cable track
The SUPERFLEX® HIPERFACE-DSL® by the automation specialist LÜTZE, Weinstadt, is an optimised version of its successful hybrid cable series for servomotors.
The benefits of the LÜTZE hybrid cable series for servomotors are obvious: encoder feedback and energy transfer bundled in to one cable. The LÜTZE engineers have revised two essential elements of their c-track-suitable single cable solution. Firstly, a completely redesigned shield for the data pair. The new shield now allows much faster and error-free contacting when fitting the plug. Secondly, the data pair of the LÜTZE SUPERFLEX® HIPERFACE-DSL® is fitted in a thin inner sheath that significantly improves the stability of the stranded bond and the mechanical and electrical properties. Overall, a massive improvement in terms of operational safety. LÜTZE supplies the new SUPERFLEX® HIPERFACE-DSL® per metre and also in prefabricated models with a plug. The LÜTZE SUPERFLEX® cable is compatible with the digital interface HIPERFACE-DSL® by SICK®

Trend toward single-cable solutions
Since the end of 2014, the automation specialist LÜTZE has supported the trend towards so-called single cable solutions, and supply's these cables either per metre or in prefabricated models. With this technology, the digital data of an encoder is transferred jointly with the power supply for the servomotor in a hybrid cable.
The main advantage for the user is the simpler connection technology as the frequency converter and motor can be connected with just the one cable and one plug. Further benefits of the single cable solutions by LÜTZE is cable weight is significantly reduced, less space is required in the cable track, and cable connections can be designed much smaller. With the separate connecting lead becoming superfluous for data transfer, not only is material saved, but also a possible source of error is eliminated, and the installation effort is reduced significantly. Last but not least, there is also a reduction in storage costs.
HIPERFACE-DSL® is a trademark of SICK®. HIPERFACE-DSL® is a digital interface based on the RS485 standard, with a transfer rate of 9,375 MBaud at a transfer frequency of approx. 10 MHz.
Number of characters: 2,311
Press contact
Wolfram Hofelich
Friedrich Lütze GmbH
Bruckwiesenstr. 17-19
71384 Weinstadt, Germany
info

(at)

luetze.de
Tel +49 7151 6053-0
Fax +49 7151 6053-277
Press download