DC UPS Battery Management System for the future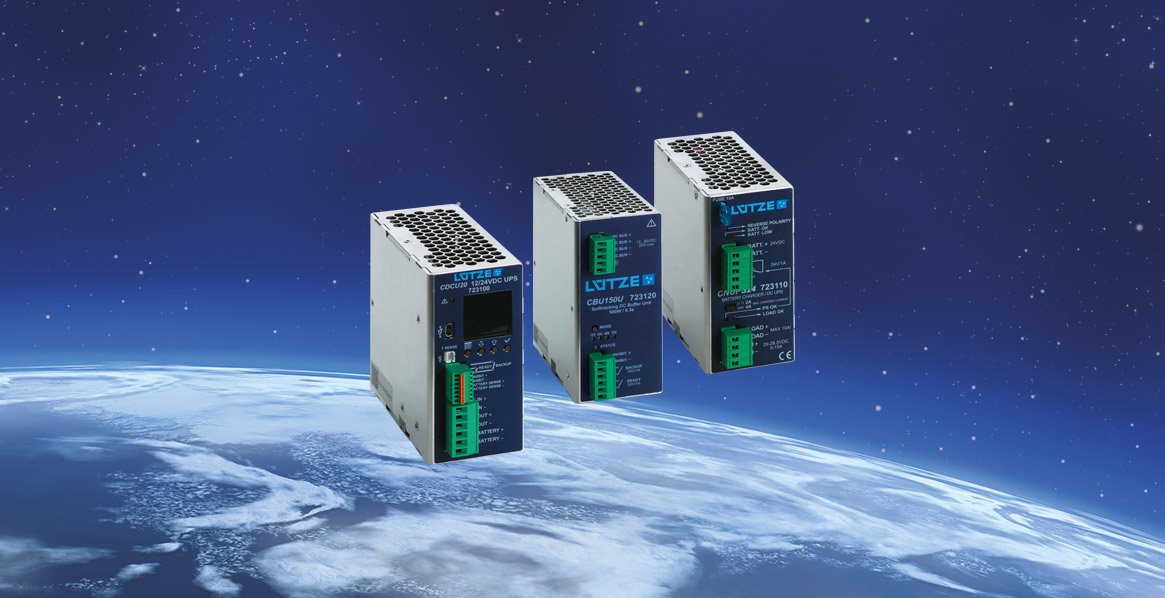 April 14, 2016
DC UPS Battery Management System for the future
DC UPS Battery Management Systems / Part-No. 723110, 723100, 723120
LÜTZE has expanded its power supply program to include DC UPS management systems and maintenance-free buffers.
The LÜTZE DC-UPS management system allows easy and reliable buffering of DC circuits. Depending on the type, devices can be used in the range DC12V to DC72V. The power supplies are configured and monitored using keys, the LCD display or via the LÜTZE Powermaster software. The new LÜTZE battery modules are basically suited for all standard lead acid-based storage media or also for Ni-MH (Ni-Cd) and Li-ION (LiFePo4).
LÜTZE DC-UPS for safe power supply
The 240 Watt DC UPS is an inexpensive way of charging batteries or allowing DC UPS operation. The charging current can be set and the connected battery is protected via a replaceable fuse. Charging mode can be operated at the same time as the load mode. The load voltage can be set in a range of DC 20-28 V. The system also has deep discharging protection at 18.5 V.The 480 Watt DC UPS management system can be used in DC 12 V or DC 24 V systems with a maximum load current of DC 20 A. All parameters can be set and monitored easily via the LCD display or via the LÜTZE Powermaster software. Status messages can be defined via two voltage-free and freely settable outputs. In addition to conventional lead acid-based batteries, this device is also suitable for Ni-MH (Ni-Cd) and Li-ION (LiFePo4) storage media.A unique feature is the new maintenance-free buffer module that allows operation with voltages between DC 12 V and DC 85 V. The device is able to supply up to DC 20 A in the short term. Safe operation is possible via a digital control. The voltage-free contacts provide the user with information about the operating status and whether the storage facility is still loading. Standard electrolyte capacitors enable the very compact design.
Number of characters: 1,925
Press contact
Wolfram Hofelich
Friedrich Lütze GmbH
Bruckwiesenstr. 17-19
71384 Weinstadt, Germany
info

(at)

luetze.de
Tel +49 7151 6053-0
Fax +49 7151 6053-277
Press download