NEW: 100 A power package for Din rail mounting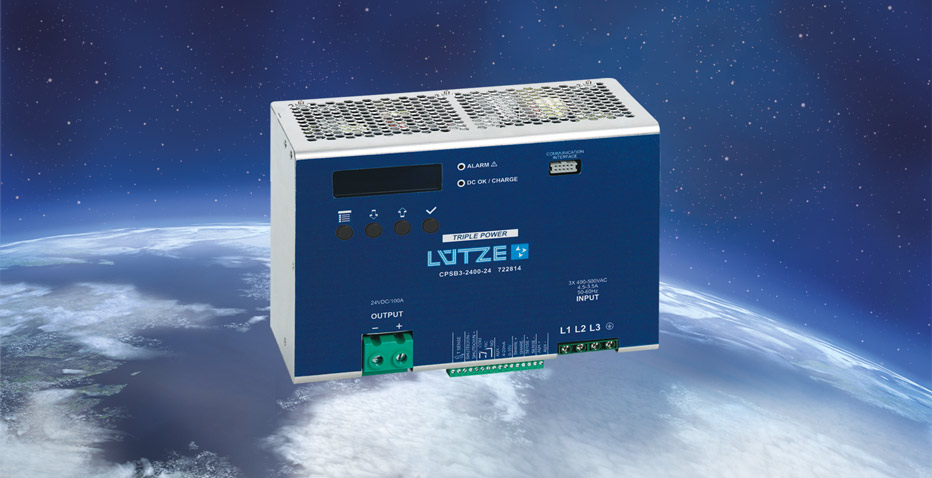 May 06, 2013
NEW: 100 A power package for Din rail mounting
Power supply Part-No. 722814
LÜTZE upgrades its Compact power supply range by introducing a 3-phase and controllable 2,400 watt AC switching power supply for Din rail mounting.
Apart from a large output current of 100 A, the power supply weighing 2.8 kg has an output voltage that can be switched off, various analog outputs for recording the output current and an integrated battery charge function. Among the technical highlights are the suppression of current peaks when switching on, the optional parameterization of the overload function and the output of fault reports. All functions can be configured and monitored via LCD display. In addition to the power supply function, the new LÜTZE power supply is capable of the most diverse controlling and management tasks. With a width of just 233 mm, the new 100 A power supply unit from LÜTZE is up to 20% slimmer than most 40 A units. 
Safety is taken seriously.
Apart from the surge protection according to VDE 0160, the new LÜTZE switching power supply has low-voltage and high-voltage protection including automatic restart and phase monitoring with PFC Power Factor Correction > 0.92. On the input side the new LÜTZE switching power supply has three phase AC input with a nominal voltage of 400 to 500 V. The operation voltage range is between 340 V and 550 V for AC and between 520 and 750 V for DC. The status indications for "DC ON" or "DC OFF" are signaled by green or red LED and alphanumerical display. Up to 4 units can be operated in parallel and redundant operation.
High performance and effectiveness go together.
With an efficiency of more than 92%, the new 100 amp power supply provides an above-average performance, even in partial load operation. This is based on a multi-stage design and special microcontroller technology. On the output side the nominal voltage is DC 24 V and can be configured between 11.5 and 29 V. With 150 A (5 s with Uout>90 %), the new power supply has a generous overload reserve which enables the operation of motors and capacitive loads.
The LÜTZE switching power supply has natural air cooling and can be used within an operating temperature range of -20 °C to 60 °C (derating). The switching power supply complies with protection class IP 20 (IEC529, EN60529) and corresponds to various national and international standards: UL 508, IEC 950, EN 60950, EN 55011, CE: EN 61000-4-5, surge immunity level IV, VDE 0160 as well as CE: EN 61000-4-2/3/4/5/6/11.
Number of characters: 2,494
Press contact
Wolfram Hofelich
Friedrich Lütze GmbH
Bruckwiesenstr. 17-19
71384 Weinstadt, Germany
info

(at)

luetze.de
Tel +49 7151 6053-0
Fax +49 7151 6053-277
Press download