Correctly connected with LÜTZE SAFECON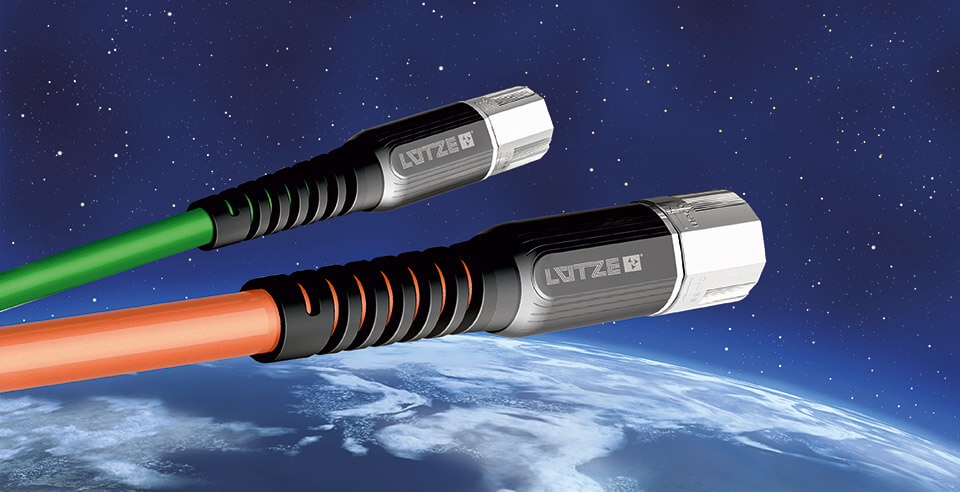 May 24, 2013
Correctly connected with LÜTZE SAFECON
LÜTZE SAFECON Servo assembly
The new plastic-encased round plug connectors M23 for industrial application - a cost effective and safe solution for the electrical connection of machines and systems.
With the SAFECON cable assembly, the automation specialist LÜTZE prepares M23 round plug connectors for use in harsh industrial environments - available in a minimum batch size of 1.
Today, plastic moulded round plug connectors are included in the standard range in the field of industrial automation. Particularly when a safe connection is needed. Your disadvantage: plastic mouldings can only be efficiently produced from larger batch sizes. LÜTZE now offers an alternative with SAFECON which meets these requirements and complies with the high protection class IP 66/67. The technical solution: the round plug connectors are provided with a plastic protective sleeve by LÜTZE, which completely encases the plugs. LÜTZE SAFECON is thus suited to a large number of signal and performance applications in harsh industrial environments. All lengths, in particular also intermediate lengths, can be supplied by LÜTZE at short notice.
With the SAFECON cable assemblies, LÜTZE focuses on machine produced safe connection technology. The advantage: customer-specific solutions and batch sizes from one unit can be realised with no problems. The mechanical production at LÜTZE guarantees consistent quality for all units produced.
Encased and sealed - LÜTZE SAFECON, the safe connection
The quality of the LÜTZE SAFECON plastic casing is in no way inferior to a plastic moulding. It additionally comprises an integrated bend protection, so that there is improved cable guidance in movable applications. This minimises the risk of damages or even wire breakage. In addition, SAFECON has an inner metal housing for the 360° EMC shielding.
In compliance with protection class IP 66/67, LÜTZE SAFECON connectors are resistant to outside influences like humidity and dust. They are specifically designed for use in harsh industrial environments and thus resistant to acids, alkaline solutions, alcohols, mineral oils, fuels and greases. Of additional benefit: an accidental or even manipulative opening of the connector housing is ruled out, safe connection is thus ensured.
The LÜTZE SAFECON product range includes assemblies for round plug connectors from 6 to 28-pin with transmission capacities of up to 30 A at 630 V. All LÜTZE SAFECON round plug connectors are compatible with the usual standard systems, for example by SIEMENS, BOSCH REXROTH, LENZE and SEW as well as many other systems with M23 connection.
Number of characters: 2,631
Press contact
Wolfram Hofelich
Friedrich Lütze GmbH
Bruckwiesenstr. 17-19
71384 Weinstadt, Germany
info

(at)

luetze.de
Tel +49 7151 6053-0
Fax +49 7151 6053-277
Press download