USB 3.0 is now suitable for industrial applications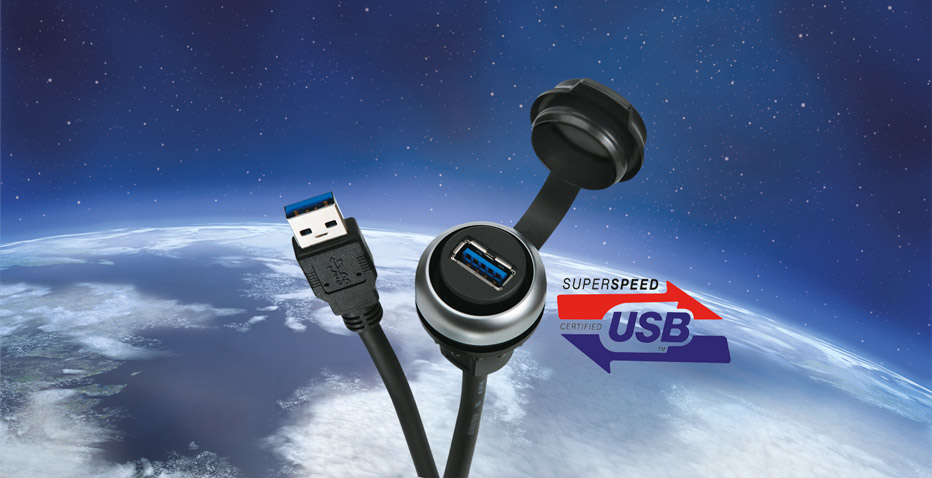 May 13, 2012
USB 3.0 is now suitable for industrial applications
LÜTZE presents a USB 3.0 "SuperSpeed" panel connector for the switch cabinet.
The automation specialist LÜTZE in Weinstadt, Germany introduces a USB 3.0 panel connector (actuator-sensor interface) with M22 thread for frontal mounting. The benefits of USB 3.0 compared to USB 2.0 are obvious: 10 times higher rate of transmission with up to 5 GBit/s, improved power supply with up to 900 mA as well as unlimited cable length. At the same time USB 3.0 is downward compatible with the existing USB 2.0 devices. Typically the USB 3.0 panel connector can be used for example for the connection of external peripheral devices and also as data and service interface.
LÜTZE provides the new USB 3.0 panel connector in two versions: Either back-mounted with a female connector (A/A) or pre-fabricated with PVC cable and male connector (A/A). The cable version is available with seven different cable lengths: from 0.3 to 5.0 metres. On the front side the panel connector is equipped with a protective cover, which when closed complies with the standards of the protection class IP 65. The LÜTZE USB 3.0 panel connector operates with a nominal voltage of 5V (AC/DC) up to a maximum of 30 V. The rated current per contact goes up to 900 mA.
About USB 3.0
What is new with USB 3.0 is that users are themselves responsible for the transmission quality. 5 GBit/s can still be ensured with a cable length of 5 metres. Microsoft supports USB 3.0 on the side of the operating system from Windows 8. For applications under Windows XP and 7, however, driver and third-party support is already available. Experts expect USB 2.0 to have given way to USB 3.0 in about three years' time.
Number of characters: 1,711
Press contact
Wolfram Hofelich
Friedrich Lütze GmbH
Bruckwiesenstr. 17-19
71384 Weinstadt, Germany
info

(at)

luetze.de
Tel +49 7151 6053-0
Fax +49 7151 6053-277
Press download