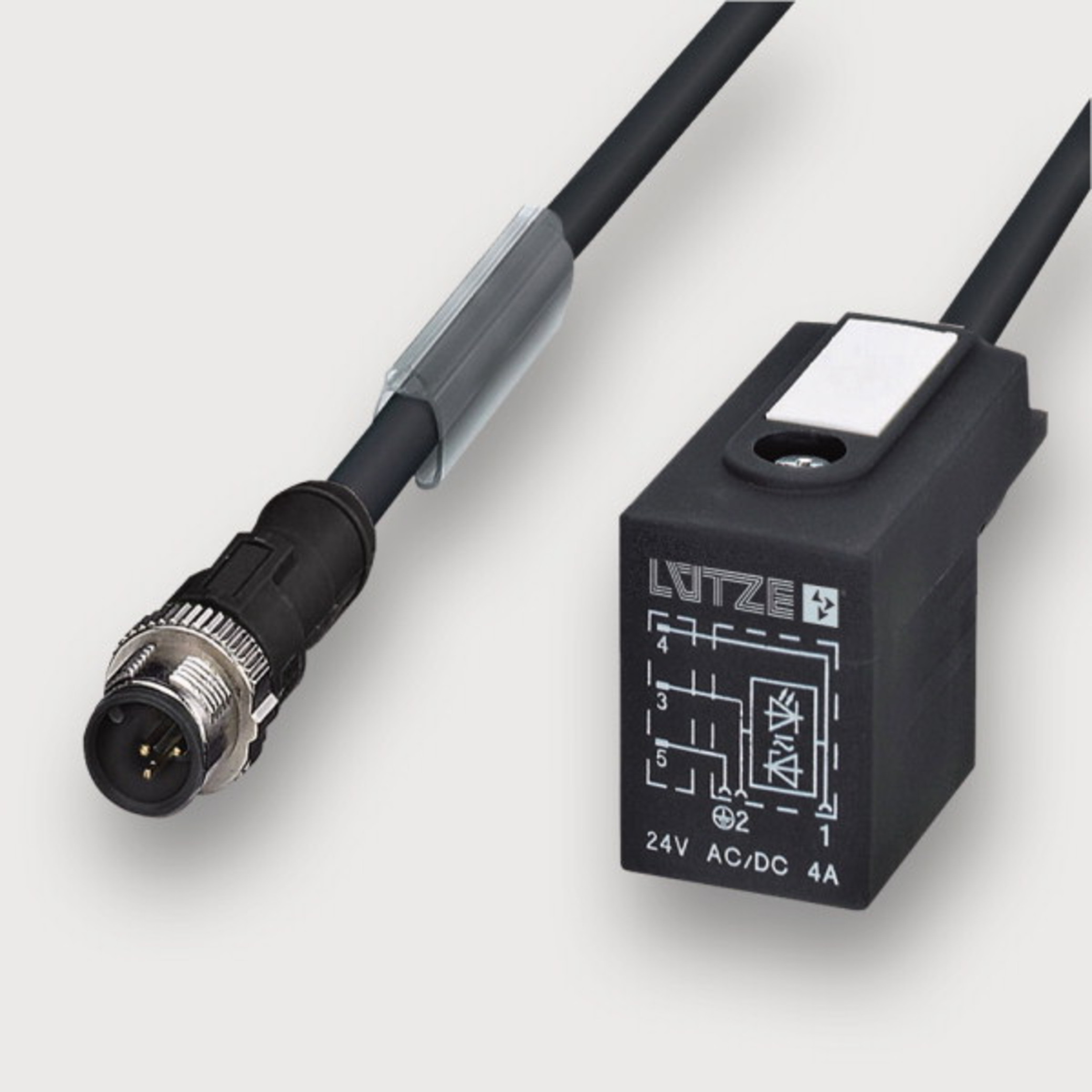 439015 - Connection cables M 12 with solenoid plug BI, PUR cable
Type
STG3-M12/LZ-BI 0° 1,5M PUR
Article available at short notice
Connection cables M 12 with solenoid plug BI, PUR cable
Actuator sensor interface
Logo
Description
Male M12 straight to valve suppressor form B / form BI
with protection device and LED status indication
c-track compatible, halogen free
Technical Data
Technical data
Rated voltage UN
AC/DC24V
Rated frequency fN
50 Hz / 60 Hz
Protection device
Z-diode + LED
Status indication
I/O: LED yellow
General
Form male 2
Valve connector form B Ind.
Rated insulation voltage
32 V
Contact resistance
< 5 mΩ
Flamability according to UL 94
V0
Color of the housing
black / transparent
Contact material
CuSn, gold-plated
Thread material
Zinc die-casting, nickel-plated
Mounting
Breakaway torque 0.4 Nm
Number of conductors/cross-section
3 × 0.5 mm²
Minimum bending radius moving
10×D
Storage temperature range
-30°C…90°C
Temperature range connector
-25°C…90°C
Temperature range fixed
-40 °C … +80 °C
Temperature range moving
-20 °C … +80 °C
C-track chain properties
Type B
Conduction properties (TYPE A+B+C)
PUR halogen free for extreme demands
Very good chemical stability
Very resistant to oils and lubricants
Very high abrasion resistance
Halogen free
Silicone free, free of paint wetting impairment substances
Resistant to microbes and hydrolysis
Good UV stability
Comments
Silicone free, Free from paint wetting impairment substances, resistant to microbes and hydrolysis Very good resistance to acids, alkalines and solvents. The material resistance is based on the application for use with aggressive media.
Accessories
Torque setting tool M 12: Part-No. 490091 | DM-SET M12 | PU: 1 unit